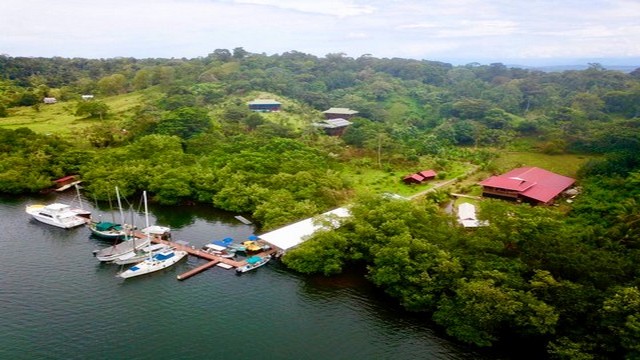 complex and marina
Main House-  2,250 sq ft, completely remodeled, windows and doors,  2 levels, separate entrance,2 bathrooms, AC, laundry and  BBQ terrace 
Guesthouse- 2,460 sq ft, 2 levels, 4 bathrooms, 6 rooms, fully furnished, laundry room
Restaurant  / Kitchen: 2,400 sq ft, large hang out area,  fully equipped commercial kitchen ( fridges, freezer, sinks, pantry...etc)  storage, bathroom
Cabana : 400 sq ft with kitchen and bathroom.
Marina Bathrooms: two buildings, men's & women's, 2 lavatories and showers per building.
Marina workshop building: 1,o00 sq ft,  concrete floor, secure storage room.
Marina House: 1000 sq ft 
Workshop Storage  Building: 4,000+ sq ft
Marina Office 
Helicopter pad
Main Dock/ Bodega. 150′ covered dock and boat area with large 8'x16′ dock storage bodega. 200′ marina floating dock  with full water and power hook ups. Accommodates up to 18 vessels comfortably.
Groundskeeper House:- 400 sq ft, 2 bedroom
Construction Quality:
All buildings are constructed with high quality materials.
Electrical System:
The largest and most robust off-grid solar system in all of Bocas del Toro
28,800 watts of USA made Mission solar panels
8 Outback FM80 80A high quality solar charge controllers
4 Outback Power sealed marine rated inverters providing 240VAC power throughout the property capable of producing up to 20KW.
2,490 Amp hour battery bank by HuP Solar, highest quality flooded lead acid battery on the market today with a 10 year warranty and typical 20+ year lifespan.
Automatic battery watering system with deionized water filtration.
16KW Generac propane backup generator hardwired to main system, fully configurable and linked with main system to auto start if batteries get low.
Internet / Network:
Entire property has commercial grade outdoor rated Wifi routers.
Security camera system covering property throughout with over 22 HD IP-cameras all accessible on any internet cable device both local and around the world.
Water System:
22,000 gallons of water storage in 3 heavy duty water bladders.
UV filtered water systems plumbed to each bathroom and kitchens in five buildings.
Full rainwater collection system with automatic incoming filtration made in Germany.
Septic Systems:
Property is serviced by five large septic tanks, main tanks serving houses are 1000 gallons each.
Gray water is all handled by separate leach systems.
Propane.
Propane plumbed under main building with a manifold of 6 Tropigas tanks. 
| | |
| --- | --- |
| Price: | USD$1,900,000 |
| Address: | Bocas del Toro |
| City: | Bocas del Toro |
| County: | Panama |
| State: | Panama |
Location Map