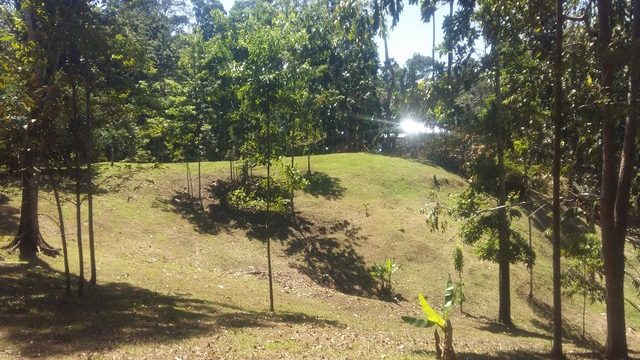 Negociable
Beautiful 7 ha farm
We are in the presence of a land of 7 ha of which 5 ha are in title, the upper part, and 2 ha in right of possession, the low part relatively humide.
Some of this wetland has been backfilled. An elevated passage has been arranged to facilitate the access
from the covered dock to the lancha.
The top part of this finca, the 5 ha titled, has a real interest both its topography is really nice,
With soft and undulating curves offering several spaces to the construction, wooded. This property is a real pleasure to cross away, Allowing also a view on both sides of the Isthmus that constitutes the continent there. However, access is only by boat, 20 minutes from Almirante or Bocas town.
A home of 60 m ² approximately is being finished, sheltering a room, living room, kitchen, bath room, terrace, a small solar system and catchment Of rainwater, thus constituting a real first home. A quaretaker house is also present.
The Cell phone signal and internet is of very good strength. A good pleasant breeze blows the place.
Undoubtedly, this place carries projets such as an ecolodge, private project, or even the possibility of reselling a plot or two with an access Will can be adapted for the passage of a motorized vehicle, which would improve the logistics of supplies and others construction materials.
You have the dream of another different life, on the margins of the urban tumult and trepidate, in the middle of nature, monkeys, birds, then here is a Location of the archipelago of bocas del Toro that could fill your desire for change.

| | |
| --- | --- |
| Price: | USD$ 350,000 |
| Address: | Tierra oscura |
| City: | Bocas del Toro |
| State: | Panama |
| Square Feet: | 7 ha |
| Bedrooms: | - |
| Bathrooms: | - |