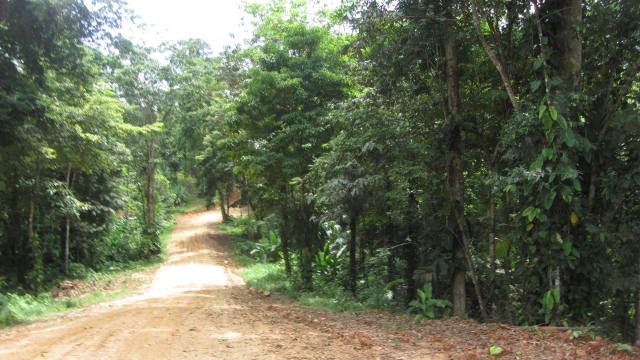 50 jungle titled lots
50 jungle lots are now available on Colon Island 15 minutes drive from Bocas city, with bank,
shops, airport, bar, restaurant, hotels etc.
Each batch is from 1000 to 1500 m2.
The peculiarity of this development is that it has access road and sea. This configuration is rare, and unique for
a residence in Bocas.
A path has been drawn in the forest from the road to the sea. A channel of a hundred meters has been dug
facilitating the launching of motorboats to reach the bay overlooking the archipelago. A hollow space
allows to keep his lancha afloat ready to go fishing or walking. It is possible to leave a
sailboat at anchor in the bay very sheltered.
Most of the land is on each side of the gravel road.
Each titled batch is bounded, registered and numbered.
Each house must provide for its system of water recovery and solar power generation.
However, water and electricity is on the edge of development along the road to Boca del Drago, the North
from the island. It is conceivable, according to a common desire of each owner to bury electric cables and
water pipes to serve each ground.
The island of Colon, which is currently supplied with electricity by a generator that is close to development,
must be connected at the latest on September 15, 2016 to the Continent by a line that will come from Changuinola,
underwater cable, and then will pass in front of the development.
We can imagine eventually the energy supply of this project.
The fauna and flora is abundant with monkeys, lazy, many birds and others.
The promoter of this development which has to his credit numerous constructions on the archipelago can take charge of the
building your house, can offer you a plan, or build according to your wishes.
From $ 30,000 to $ 80,000 depending on the lot, this is an interesting investment.

| | |
| --- | --- |
| Price: | USD$ 30 to 80,000 |
| Address: | isla Colon |
| City: | Bocas del Toro |
| State: | Panama |
| Square Feet: | 1500 m² |
| Bedrooms: | - |
| Bathrooms: | - |
| Pool: | Road and sea |