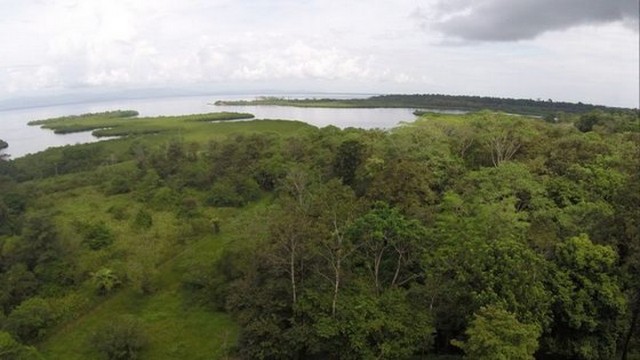 Sold
USD$ 295 000

Property Type:

> Land

Location:

Isla Colon

Beds:

-

Baths:

-

Sq Ft:

4,6 ha
4,6 ha titled property
Cette magnifique parcelle, titrée, sur Big Bight, d'environ 4,6 ha offre des paysages spectaculaires.
La colline la plus haute, où se trouve déjà une aire de construction, est environnée d'une forêt vierge profonde, d'un côté avec vue sur la mer et les montagnes de l'autre. Le terrain se compose d'un moutonnement de collines, de terrains plats, de forêts, et d'un front de mer de 172 m de long s'ouvrant sur une baie profonde.
Elle est accessible par terre et par mer, à 15 minutes de voiture de Bocas et de son aéroport.
L'électricité est disponible est à 1km de la propriété, et des réservoirs capteront l'eau de pluie .
L'accès internet est disponible également.
Une grande variété d'animaux vit dans ce lieu d'une grande tranquillité, qui offre de multiples possibilités de construction, idéales pour un développement touristique tel que hôtel et marina, un eco-resort, une destination de retraite ou une maison particulière loin du bruit et de la foule.
Les propriétaires acceptent de financer l'achat sur 3 à 5 ans, avec un apport de l 'acquéreur à hauteur de 60 %. à négocier.
ENGLISH,
This stunning property , titled, on Big Bight, has spectacular views. The highest hilltop, where a building site has been made already, is surrounded by deep virgin jungle on one side, with views of the sea and mountains on the other. This property features rolling hills, flat lands and a deep waterfont of 172 m.
Accessible by road and water, just 15 minutes from downtown Bocas and the airport.
Power is approximately 1 km from the land. Water will be rain catchment. Internet access is available.
A variety of wildlife lives among this quiet setting. With its multiple varied building sites, it is a ideal location for a hotel development with a marina, an exclusive Eco-resort or retreat destination, or a private home away from noises and crowds.
The owners are willing to finance for 3 to 5 years with a 60 % deposit. To be negotiated.

| | |
| --- | --- |
| Price: | USD$ 295 000 |
| Address: | Bocas del Toro |
| City: | Bocas del Toro |
| State: | Panama |
| Square Feet: | 4,6 ha |
| Bedrooms: | - |
| Bathrooms: | - |