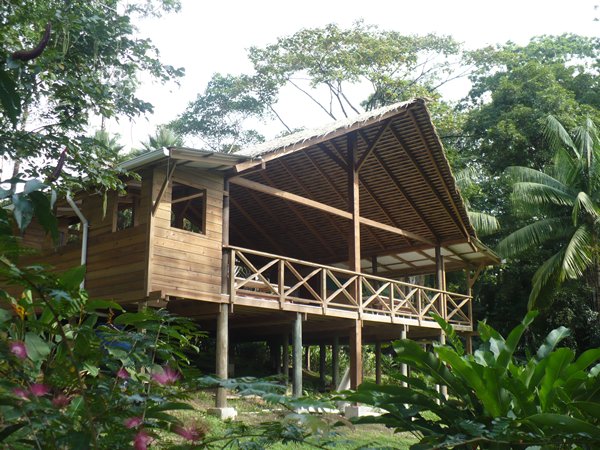 FRENCH,
Cette maison, édifiée sur 94 m2 en Juin 2017, sur une hauteur, et partiellement achevée, jouit d' une vue magnifique sur l'océan et d'une agréable brise. Installée sur environ 1400 m2 de jardin paysagé, elle se prête à de nombreuses possibilités.
Elle est construite avec du pin importé et traité qui offre à la vue de larges poutres et de grands piliers et couverte d'un toit de chaume synthétique importé de Floride. Ce qui permet de ne pas installer un faux plafond, de ne pas entendre le bruit de la pluie et élimine les insectes.
Le plan, entièrement ouvert peut-être complété par le nouveau propriétaire de chambres, d'une cuisine ou d'un loft pour lui-même ou pour la location.
Depuis la terrasse, on profite du murmure de l'océan et de la nature environnante, car la maison est installée dans le Jardin Botanique … au milieu d'une végétation luxuriante. Cette propriété est un rêve pour les amateurs d'oiseaux.
Le Jardin Botanique est un sanctuaire de la vie sauvage avec 3 espèces différentes de singes, des paresseux, des tatous, des ratons laveurs et des milliers d'espèces de plantes ornementales, d'arbres fruitiers, de palmiers, de plantes médicinales et sa forêt tropicale humide primitive.
L'eau et l'électricité sont fournis par la ville. La wifi est également disponible.
Les plus: vous vous trouvez au milieu de la nature, en même temps qu'à proximité d'une plage tranquille, à quelques minutes de marche, et non loin des meilleurs spots de surf de l'île. Et à 5 minutes de voiture du centre ville de Bocas et de l'aéroport.
ENGLISH,
This elevated partially-finished house, from June 2017, about 94 m2,with stunning ocean view, and breezes, is set in approximately 1/3 acre of mature lanscaped garden and lends itself to many possibilities. The construction is with imported trated pine featuring huge beams and poles with an imported synthetic thatch roof.
The completely open-plan design can be completed with owner's configuration for bedrooms, kitchen, great space, loft and other areas for living or rental purposes.
By relaxing on the large deck, you can listen to the ocean and nature all around you …
The house sits inside a tropical foliage.
This titled property is a bird watchers paradise, not to mention a sanctuary for wildlife, with three species of monkeys, sloths, armadillos, raccoons and thousands of species of ornamental plants, palms, fruit trees, medicinals and native rain forest.
Electricity and water provided. Wifi available .
The highlights: set up in the nature, with a very quiet beach just a quick walk from the driveway,you are closed to the best surf breaks on the island and only 5 minutes taxi ride to Bocas Town and the airport.
| | |
| --- | --- |
| Price: | $385,000 |
| Address: | Bocas |
| City: | Bocas del Toro |
| Year Built: | 2017 |
Listing Inquiry