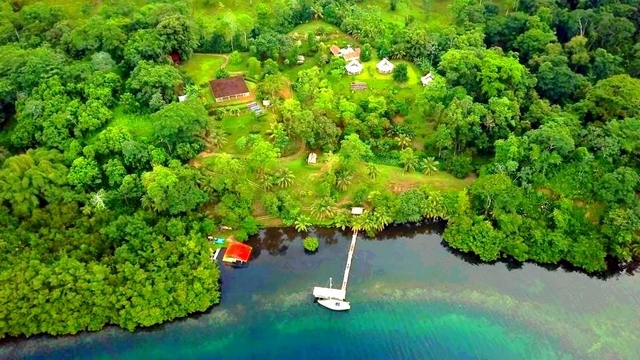 New
One of the most beautifull propperties in the Islands
This set consists of a main "Creoline villa", 3 luxury bungalows, a simple bungalow, a swimming pool, a restaurant, a secondary house, a garage, a workshop, and other storage spaces.
The architecture of the constructions, the simplicity, the French elegance, the volumes, the very beautiful sea view, the topography of the ground, the garden, trees and animal species, the seaside and its coral, the infrastructures, certainly make of this set one of the most beautiful properties of the archipelago existing and for sale now.
This is 3.7 ha in right of possession composed of 3 hills, on behalf of a Panamanian company located on San Cristobal Island, facing the mainland, 30 minutes by boat from Bocas Town (Isla Colon) , and 20 minutes from Almirante located on the mainland.
-The main house, built on concrete floor, is covered with earth tiles, the only one of the archipelago, treated pine structure, local wood siding: 324 m2 covered, including 120 m2 house and 204 m2 of terraces . Large living room, kitchen, a large bedroom with dressing room, a bathroom, an office, a storage room. It would be very easy to make 3 more rooms on the back terrace.
A lot of luminosity bathes the interior spaces, the peripheral terraces (4m in front and back, 3 m on the sides) offer you a real protection against the sun and the rain. Even in bad weather, you can enjoy the terraces.
-3 bungalows about 40 m2 each with panoramic forms forward, spacious and voluminous, clear, very beautiful sea view, each offering a large bedroom, a bathroom and toilet. Each bungalow is well separated by the distance and a vegetable hedge.
-A second house with a bedroom, living room, kitchen, restaurant area, two pools, terrace, laundry.
-A small extra bungalow with shower and toilet.
-Bungalow fitness area
-A workshop plus car garage
-A storage bodega
-A 2 seater boat shelter / covered car
-50,000 liters (12 000 galons) of rainwater, plus 50,000 (12 000 galons) liters of additional pool water for injection into the water system.
-700 m2 (7000 squarfeet) of roof for catching rain water.
-2 solar systems: main house of 3500 w, bungalows of 6000 w.
-Hight speed internet
-Cell phone signal
Water and electricity are distributed everywhere on the property, underground pipes and lines.
Many plantations have been realized, precious trees such as Nazarino, Ylang Ylang, Almendra, plants, flowers, fruit trees, Japanese steps creating walking and access trails, all with a harmonious balance in accordance with the princip of Feng Shui for both the garden and the main house.
- A 40 m (120 feet) rope suspension bridge connects the coastline to a dock that can accommodate a moored sailboat.
-The paths are concreted from below to the top for ease of movement in 4 X 4.
-A 4 x 4 Arcti Cat vehicle.
-A 16-feet boat with 70 hp Yamaha 4-stroke.
-Tools of maintenance.
This beautiful property has a great charm, is the subject of many reflections for the implementation of buildings, and the layout of the garden.
A real paradise with all the ingredients of happiness for one who want to have tranquility, nature and a different island life.

| | |
| --- | --- |
| Price: | USD$ 830,000 |
| Address: | Bella Vista |
| City: | San Cristobal |
| County: | Panama |
| State: | Panama |
| Year Built: | 2010 |
| Floors: | . |
| Square Feet: | 3,7 ha |
| Acres: | . |
| Lot Square Feet: | . |
| Bedrooms: | 6 |
| Bathrooms: | 5 |
| Half Bathrooms: | 1 |
Listing Inquiry