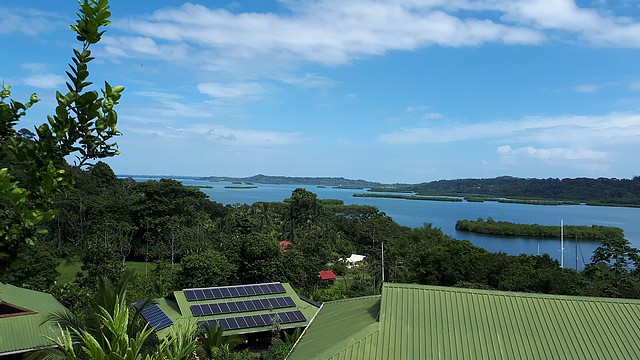 Sold
Marina, bulding, worshop
Property:
57+ acres, fully fenced and surveyed.
Verified ROP with all paperwork and all applications for title have been submitted.
Large fenced pasture areas for cattle.
4+ acres of eatable plants. Thousands of bananas, plantains, yucca, taro, breadfruit, lime, ice cream bean, cacao, pineapple and many other eatable plants and trees.
Jungle with trails throughout.
Real wildlife, white faced monkeys, armadillos, poison dart frogs, boa constrictors (no dangerous snakes), sloth, toads, iguana, and a plethora of all sorts of other animals.
Income Producing:
Property is income producing and very profitable. Marina, marina services and many other functions. Property could also be a restaurant, hotel, hostel,  development, etc. Conservative income on the marina slips alone is $3k-7k a month. 2017 sales exceeded $500k.  2018 sales exceeded $500k just from January to July, right before business was paused. The income potential and opportunities in this area are incredible.
Structure :
1) House 1 (main house): 2,250 sq ft, 2 levels, 2 bathroom, 3 bedroom, laundry with wrap around porch.
2) House 2 (guest building): 2,460 sq ft, 2 levels, 4 bathrooms, 6 rooms, kitchen and laundry.
3) House 3 (groundskeeper house): 400 sq ft, 2 bedroom, great room / kitchen.
4) Main building / kitchen: 2,200 sq ft, large hang out area, commercial kitchen, pantry, storage, laundry and bathroom.
5) Medical clinic: 400 sq ft, exam room, reception, bathroom, fully equipped. Could be converted into guest house.
6) Marina bathrooms: two buildings, men's & women's, 2 toilets and showers per building.
7) Marina workshop building: 1,800 sq ft, 2 levels, concrete floor, sewing loft, secure storage rooms and other spaces.
8) Workshop / fiberglass production building: 4,000+ sq ft
9) Office: air conditioned office area under covered dock to serve the marina and any other businesses.
Construction Quality:
All buildings are constructed with high quality materials.
All main structure support members are high quality wood such as Arenio, Nispero, Almendro, Zapatero, Honduran Pine and Kira.
Double galvanized nails.
Stainless steel all-thread.
Epoxied foundation joints.
Concrete footings, foundations and floors all have double the standard rebar and are crack free.
PVC roofing on all structures near the ocean.
Dock:
Amazing 440′ of total dock length.
Main dock / bodega: 150′ covered dock and boat area with large 8'x16′ dock storage bodega.
200′ marina floating dock with full water and power hook ups.
3 30′ marina floating dock fingers.
Full overhead crane system for pulling boats, motors and heavy cargo.
Customer laundry and garbage area.
Electrical System:
The largest and most robust off-grid solar system in all of Bocas del Toro, and potentially all of Panama.
28,800 watts of USA made Mission solar panels
8 Outback FM80 80A high quality solar charge controllers
4 Outback Power sealed marine rated inverters providing 240VAC power throughout the property capable of producing up to 20KW.
2,490 Amp hour battery bank by HuP Solar, highest quality flooded lead acid battery on the market today with a 10 year warranty and typical 20+ year lifespan.
Automatic battery watering system with deionized water filtration.
Brand new 16KW Generac propane backup generator hardwired to main system, fully configurable and linked with main system to auto start if batteries get low.
Entire system can be controlled and monitored from anywhere in the world.
Full lightning protection all on main buildings with secondary surge protection, all marine rated high quality made in the USA components.
All wiring throughout buildings and between buildings is high quality outdoor rated full copper cabling.
All high quality Leviton outlets and switches.
Lighting:
Main dock lighting with fully lit pedestals on light / heat sensor.
Main covered dock LED string lighting on light / heat sensor.
High intensity LED security lighting throughout marina buildings.
LED string lighting in main building.
LED light bulbs throughout property.
Internet / Network:
Entire property has commercial grade outdoor rated Wifi routers.
Dedicated antenna feed directly to PaNETma internet provider.
Full high end Unifi network routers, connected via CAT6 cable, protected with ethernet surge protection.
Security system camera system covering property throughout with over 25 HD IP-cameras all accessible on any internet cable device both local and around the world.
Cellular signal repeater in low signal areas, good cellular service throughout property.
Water System:
22,000 gallons of water storage in 3 heavy duty water bladders.
UV filtered water systems plumbed to each bathroom and kitchens in five buildings.
Full rainwater collection system with automatic incoming filtration made in Germany.
Main water pump is a ultra high grade brushless DC water pump made in the USA.
Backup water pump is a high quality DC water pump made in the USA.
Filtration on pressure side using stainless steel reusable made in the USA filters.
160 gallons of fiberglass pressure tanks made in the USA.
All buildings plumbed with pressurized water with equal pressure throughout property using high quality pressure regulators also made in the USA.
Good producing well on property used to supply neighboring villages and for back up.
Septic Systems:
Large capacity septic systems provide trouble free service to all buildings throughout the property.
Property is serviced by five large septic tanks, main tanks serving houses are 1000 gallons each.
Gray water is all handled by separate leach systems to not ever overwhelm septic systems.
Propane:
Propane plumbed under main building with a manifold of 6 Tropigas tanks.  Propane is then fed to the generator, main kitchen, guest house and main house.
Medical Clinic:
Fully equipped medical clinic building.
This building is actively used and open four days per week with over $20k in medications and supplies.
Exam table, dental chair, sterilizers, hospital tools, surgical lights, etc.
We perform basic emergency procedures for local people when in need, from machete wounds to baby deliveries.
The price is negotiable for a quick sale !!!!

| | |
| --- | --- |
| Address: | Bocas |
| City: | Bocas del Toro |
| County: | Panama |
| State: | Panama |
Listing Inquiry