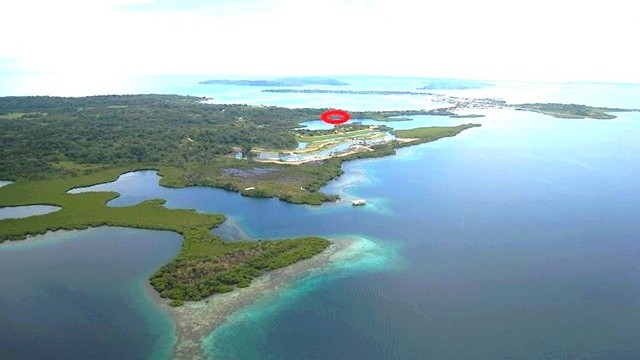 FRENCH,
Cette finca titrée, d'environ 3,4 ha se situe derrière le jardin botanique, proche de la ville et de l'aéroport à 10 mn de voiture.
Elle possède un accès par terre et par mer.
Un nouvel accès est en train d'être mis en place plus loin, sur la route de Boca del Drago, à 2 km de là.
Un canal a été construit sur une longueur de 150 m mais demande à être achevé.
Le front de mer, de 172 m de long, borde une baie calme et profonde.
C'est le seul terrain de ce coté du lagon qui abrite des collines douces … ainsi que du terrain plat avec de nombreuses possibilités de construction.
Il est complanté d' arbres anciens et d'une grande variété de plantes donnant vie à toutes sortes d'animaux.
L'électricité est facilement accessible et des réservoirs devront être installés pour capter l'eau de pluie. L'accès internet est disponible.
L'ensemble peut être vendu comme tel ou séparé en 3 propriétés distinctes d'environ 1,1 ha chacune.
Les propriétaires acceptent de financer l'achat sur 3 à 5 ans, avec un apport de l 'acquéreur à hauteur de 60 %.
ENGLISH,
This finca of about 3,4 ha. ( 8,6 acres), titled, is located behind the Botanical Garden, just 10 mn driving from Bocas Town and the airport with road and water access. A new road will be put in, 2 km further, on Boca del Drago road.
A canal was started, 150 meters in length and just needs to be finished.
The 172 meters of waterfront is located in a deep, calm bay.
This premium elevated land with gentle slopes to the lagoon, give multiple building sites with old-growth trees and a variety of plants and wildlife.
Power is close and can be brought to the property. Water is rain catchment.
Internet access available.
The finca can be sold as one property or subdivided ( segregated ) into 3 lots of approximately 1,1 ha ( 2,7 acres) each.
The owners are willing to finance for 3 to 5 years with a 60 % deposit.
| | |
| --- | --- |
| Price: | $460,000 |
| Address: | Bocas |
Listing Inquiry